This is a Magazine I created in order to promote a canvas of self-expression to the individuals that contribute to it. I curate, rather than edit, and bring together a different variety of artists with each issue. Designed to evolve, this "zine" spreads new roots as it brings together a whole new set of demographics. This platform for all walks of life is a tangible way to share the discovery of expression. Supporting and sharing creatives in a way that doesn't exploit, while still providing promotion readily available to the general public. Started in Salt Lake City, UT but as of 2019 rooting out of Boise, ID, this magazine has been doing some groundbreaking of it's own. Please click through the "Learn More" link to take a peak at the digitized version of each issue.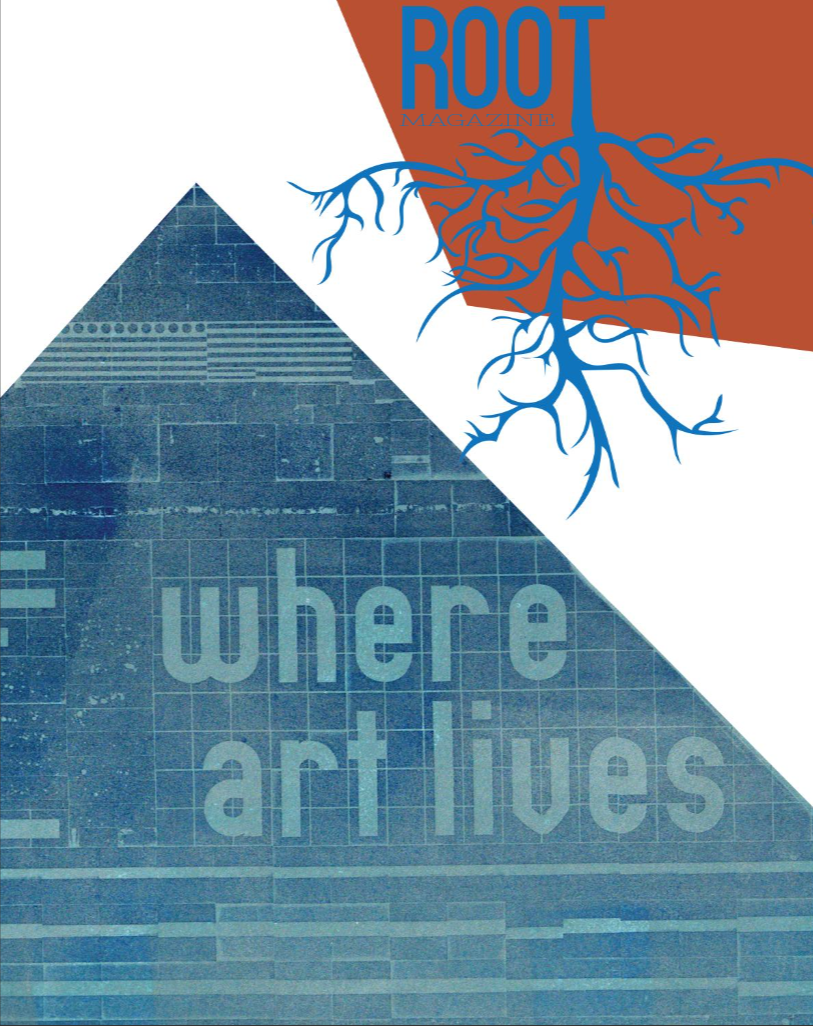 Issue #8: Boise State University School of the Arts Edition
Boise State University School of the Arts just implemented a state of the art, literally, building that will skyrocket arts and culture in Boise, ID. BSU commissioned me to build a magazine for the ribbon cutting ceremony for this space. It was my job to ensure that the publication had a variety of content that covered the breadth of the school of the arts. I covered all of the departments within in the school, including the departments of: Theater, Film and Narrative Television Arts, Dance and Choreography, Creative Writing and finally Visual Arts- with an emphasis on the latter. This new facility was constructed for the visual arts, although the space will host many cross-pollinating ventures within the school. This was an extremely enjoyable and challenging opportunity for both myself and the magazine, being involved with an accredited entity of academia, and I look forward to future collaborations with the school.
Issue #7: Swell Artist Collective Edition
This Issue was committed to Swell Artist Collective, Boise's cool kids on the creative block. This is a visual artist collective, so it left me with the challenge of exposing each individual artists' unique characteristics differently within the design and layout. As a collective of 36 artists, I featured 8 and then also had to find a way to equally represent the others within the content. This was a great opportunity in establishing "street cred" within Boise's growing art community.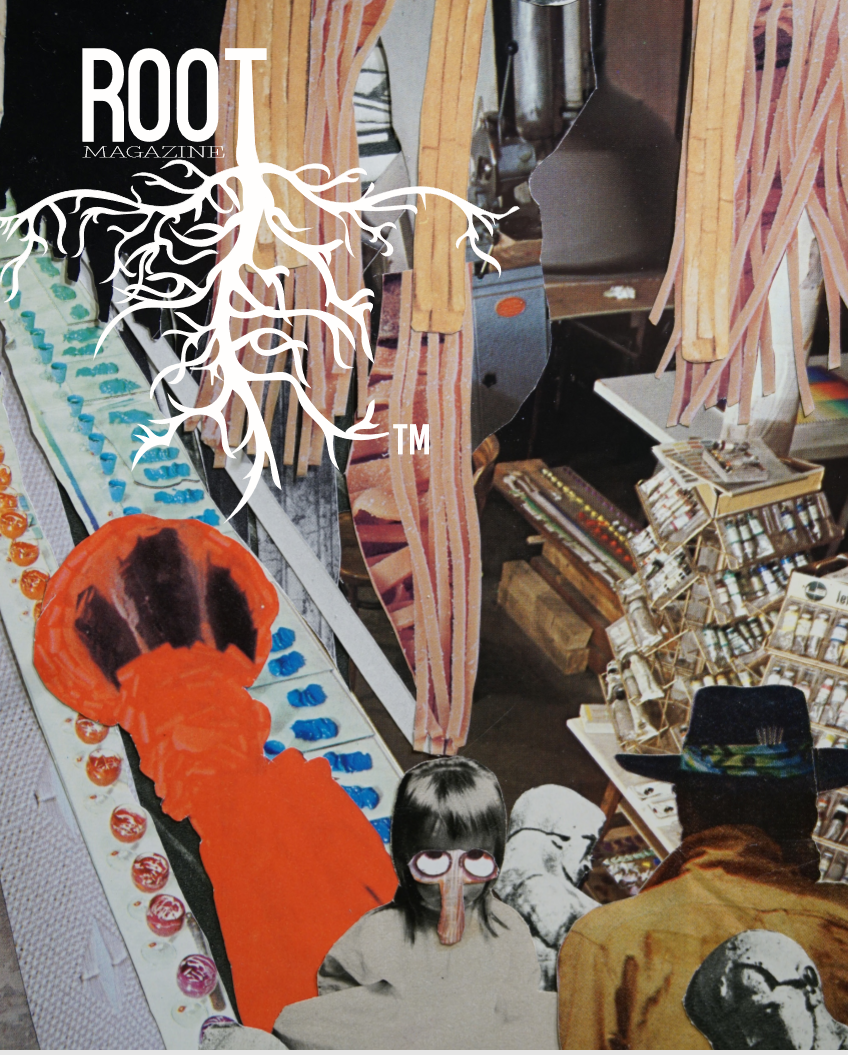 Issue #6: Treefort Edition
This Issue was committed to Treefort Music Festival, a music festival in Boise that brings the city to life. Boise just happens to also be my hometown, and because this was my first official edition here, I really wanted to expose the creative community to the best of my ability. I curated content as an interpretation of the "forts" that make up Treefort. I wanted to identify the eccentricities that make up both the festival and the city, while still keeping my identity as an individual publication. This edition was a lot of fun, and introduced me to my hometown in ways I couldn't have imagined. I look forward to producing further issues to help uncover the quirky and creative art scene that exists in Boise, ID.
Issue #5: Issue of Dedication
In the digital age we dedicate our time to many things. Today's world is a fast-paced one so we can fill our time up with just about anything and everything. With that in mind, however, I think it is all the more important what we decide to dedicate our time to. This issue is a showcase of what a myriad of things are out there for the choosing. Passion comes in many shapes and sizes. But today the real trick is finding a way to fit them in amongst all the things that society prioritizes. This issue was a showcase of how people make their creative and passionate expressions apart of their lifestyle, no matter what.
Issue #4: Issue of Diversity
This issue was unique in that it's theme was derived through the artists themselves. I started to allocate artists for this issue and naturally a very feministic theme manifested. Not feministic in the right of "girl power" so to speak- but in the way of supported individuality. With everything from a male who is a dancer to a girl that is a farm-to-table connoisseur- this undercurrent was quite clear as a response to what is going on in America today. Art is supposed to hold a mirror up to society, and I think this issue did just that.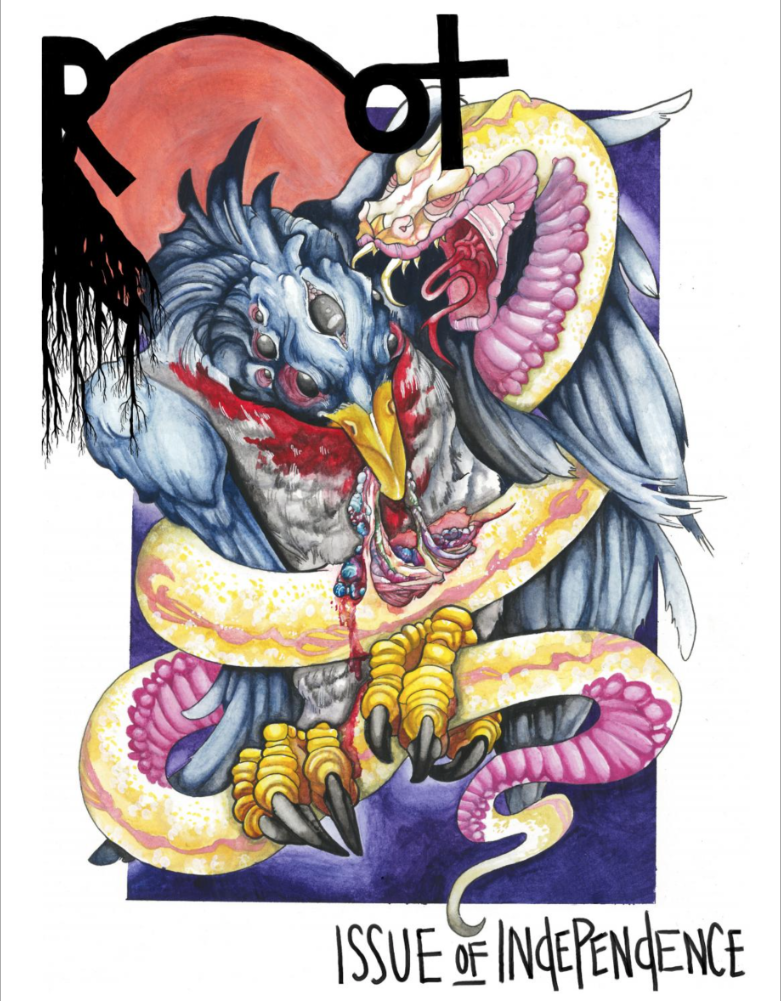 Issue #3: Issue of Independence
This issue was a milestone in the fact that I stepped away from my college's funding in order to make it happen. This independence meant that the magazine had enough momentum to continue despite the hit it took financially. That it had harnessed enough influence in the community for other independent business owner to step in and collaborate with ROOT so that it could continue to promote its philosophy. ROOT continued to foster its growing roots, manifesting its very own ecosystem of artists, supporters and everything in-between.
Issue #2: Issue of Momentum
This collection of artists came together as a result of the first issue. These "secondary roots" built a whole new set of thriving connections for this magazine, creating enough community involvement to have a launch party. Organic momentum was manifested, and this issue showed that ROOT had the potential to keep going, just as long as I was along for the ride.
Issue #1: Issue of Triumph
The first pancake. I was so proud to get this issue out, because it wasn't just about making a magazine- but rather creating a brand that would hopefully fuel a movement. This was all created in my final year of my undergraduate degree (because I didn't have enough to do) and ended up being the cherry on top to my final portfolio as a student. Thanks to the community and the connections I was able to find, ROOT continued to root out.